OpenSource: Server Dashboard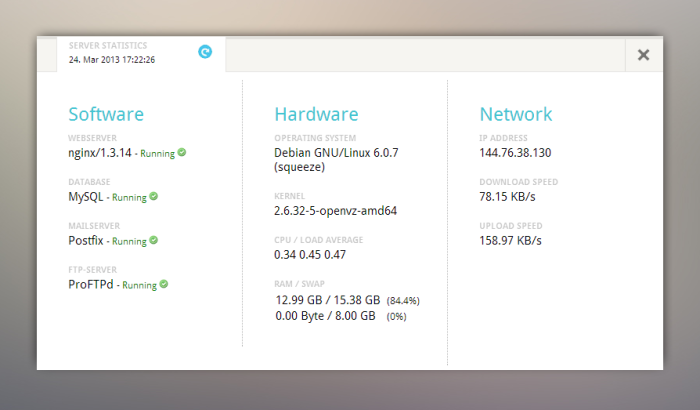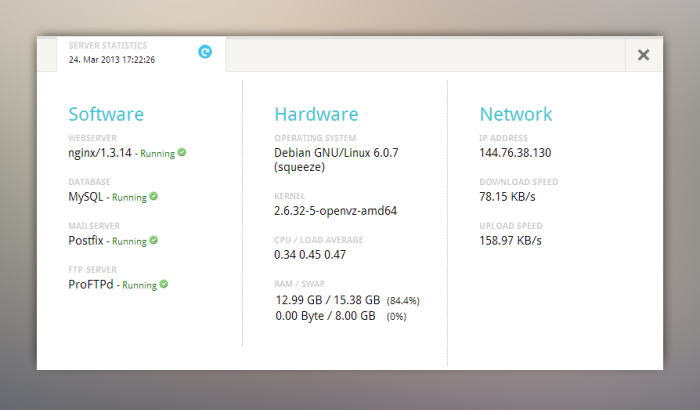 This post was published 10 years 1 month 18 days ago, so the post may be outdated.
Das Server Dashboard für die schnelle Übersicht über den Server. Programmiert wurde das Dashboard von mir in den Sprachen in PHP, JavaScript (jQuery und AJAX) und CSS. Das Projekt steht auf github öffentlich für alle zur Verfügung.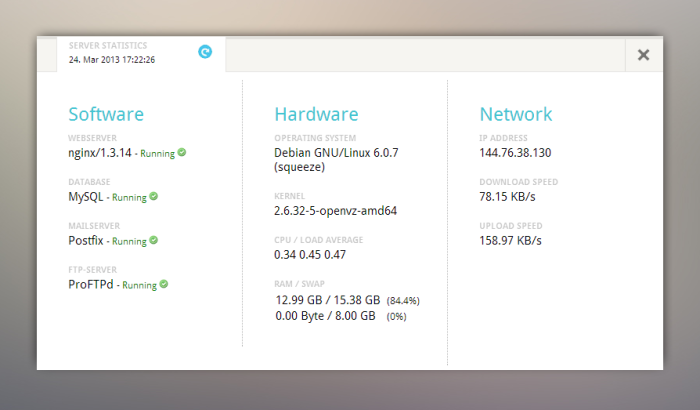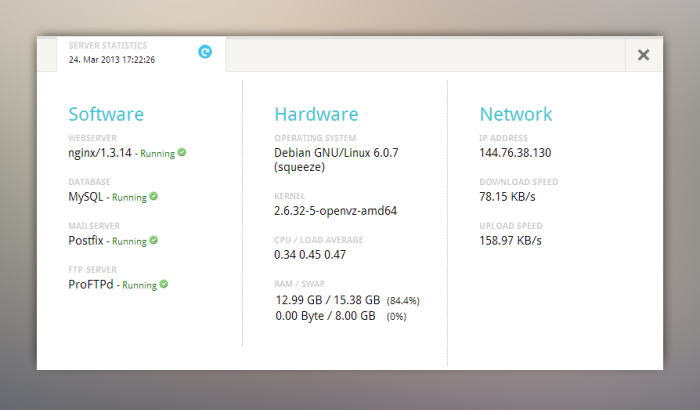 Allgemein
Das Dashboard ist quasi in zwei Bereiche aufgeteilt: Client und Server. Die Seite selbst ist nur in HTML geschrieben und benötigt kein PHP zur Ausführung.
Die notwendigen Daten werden von einem eigenem PHP Script abgerufen, welches nicht zwangsläufig am selben Server befinden muss. Dadurch ist auch möglich das PHP Script auf einem fremden Server zu verschieben, um die Statistiken des entfernten Servers und nicht des eigenen zu sehen. Um hohe Auslastung bei mehreren Zugriffen zu vermeiden, ist eine simple Zwischenspeicherung (Cache) im Dashboard integriert, welche in der config.php nach seinen Bedürfnissen angepasst werden kann.
Berechnung der Internetgeschwindigkeit
Die Berechnung des aktuellen Download- und Uploadspeeds ist hingegen aufwendiger und braucht aus diesem Grund auch etwas mehr zu berechnen. Der Speed wird dadurch ermittelt, dass dreimal mit je einer Sekunde Pause die aktuell versenden und empfangenen Bites gespeichert werden. Danach wird aus diesen Werten ein Durchschnittswert der letzten drei Sekunden berechnet und angezeigt. Um die Ladezeit der Seite nicht hinauszuzögern, wird die Internetgeschwindigkeit mit einem eigenen Abruf vom PHP-Script abgerufen und auch in einer eigenen Datei zwischengespeichert.
Wichtiges
Wie bereits in der Einleitung erwähnt, habe ich den Sourcecode auf github.com veröffentlicht und darf gerne von jedem weiterentwickelt werden. Pull-Requests erwünscht. Weitere Informationen wie die Lizenz unter dem das Projekt veröffentlicht wurde, die Installation und auf wichtige Punkte, auf die geachtet werden sollte, entnehme bitte der github Seite.
Download: github.com/patschi/serverdashboard/