QuickTipp: MySQL – Speicherplatzverbrauch der Datenbanken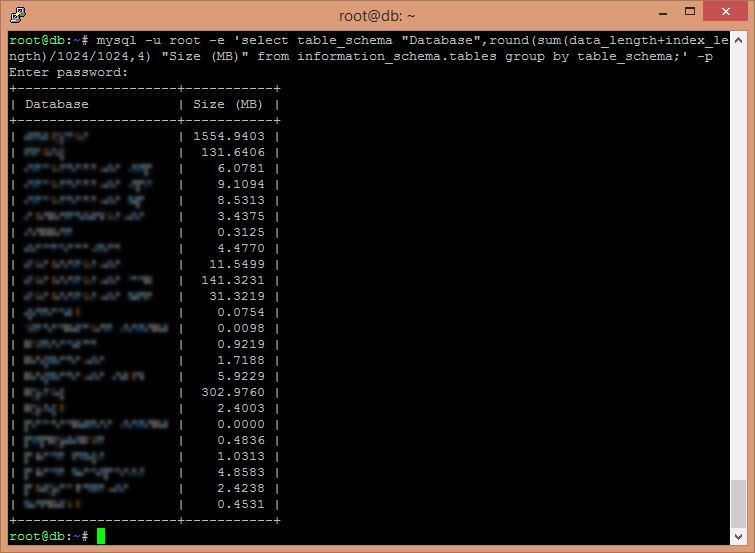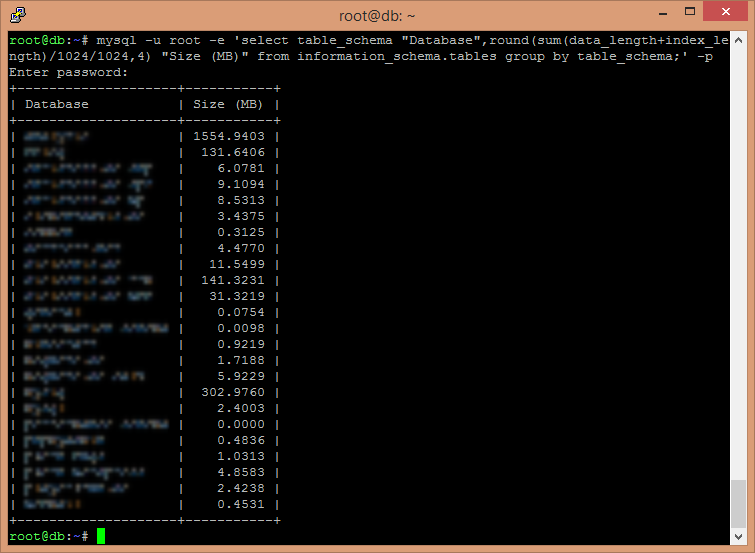 This post was published 9 years 1 month 27 days ago, so the post may be outdated.
Auflistung der MySQL-Datenbanken und deren Speicherplatzverbrauch
Ohne große Erklärung oder viel Geschreibe – hier der Befehl zum Kopieren & Einfügen in die MySQL-Console:
mysql -u root -e -p 'select table_schema "Database",round(sum(data_length+index_length)/1024/1024,4) "Size (MB)" from information_schema.tables group by table_schema;'
Nach dem Einfügen und Ausführen des Befehls wird man nach dem Passwort des root-Nutzers gefragt. Nach der korrekten Eingabe erscheint dann eine schöne Übersicht, wie im Screenshot zu sehen ist, welche die Datenbanken und deren Speicherplatzverbrauch in einer Tabelle aufgelistet anzeigt. Alternativ kann man hinter den Parameter -p direkt das Passwort schreiben, um auf eine Eingabe nach der Ausführung zu verzichten.
Quelle: spielwiese.la-evento.com